Ah, February in Independence. The lull of January has ended, hearts with messages of love hang on downtown lampposts, themed specials are everywhere and, most of all, Love Local Scratch-its are back in small businesses! That is right, the beloved community scratch-it program is back and in 18 wonderfully unique small businesses for the month of February. Below you will find out a little more about each participating business and why you should love local all month long. 
Give the Gift of Indy 
If picking out a Valentine's Day gift is on your list of to-dos, then look no further. You can find a perfect, heartfelt gift at any of the shops participating in the Love Local Scratch-it program. For the antique lover stop by The Picken Chicken. They have a vast selection of vintage and well-loved pieces for the home that you would never find anywhere else! Looking for something unique and locally made? Don't miss The Collection on Main or the new Girlfriend's Place just outside of Downtown, both shops have a great collection of new and vintage home décor, painted furniture, clothes and more! For the outdoorsy type, swing into Fifty1Fifty Tactical. They have a big shop filled with gear, ammo and accessories and they even offer classes! Not sure what to give someone? When in doubt, pick up a bag of Melting Pot Candy's award-winning toffee. They have 5 assorted flavors, from sweet jalapeno to almond milk chocolate, that are sure to please your sweet tooth. One of the newest businesses in downtown, The Witches Vine, found on C Street, across from the Heritage Museum, has house plants, crystals, and more! They keep it fresh and are always adding new vendors who sell hand-made products.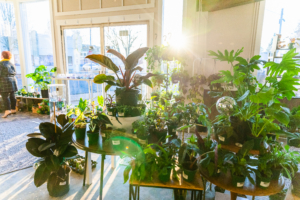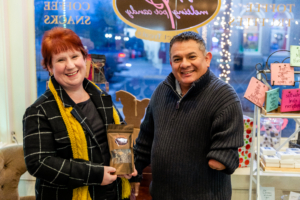 Indy Sweets & Treats  
One of the best parts about downtown is the sweets! We are lucky to live in a community that has such amazing artisans and bakers. On the corner of Main and Monmouth, there is Jubilee Champagne and Desserts Bar. The cupcakes, pastries and treats here are amazing and made in house! They also host brunch on the weekends which makes a random Saturday feel like a celebration. The Independent Ice Cream Shop on Main is another sweet shop that serves more than just old-fashioned Ice Cream. They host private high tea parties complete with all the extras, perfect for someone who is looking for a unique way to celebrate a special occasion! Another popular spot downtown is Ovenbird Bakery, a place known for their breads, quiches, and lunchtime sandwiches but especially for their cookies, pastries, and custom treats. With new items in the case daily, it's always fun to stop by and see what unique creations they have to  offer.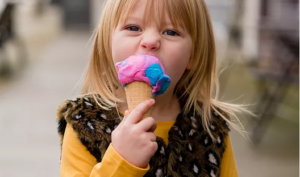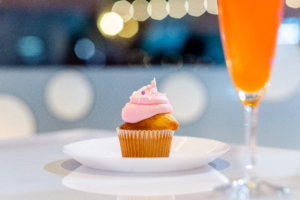 Sip the Best of Independence 
There's no shortage of places to get a drink in Independence, but these business owners are doing an excellent job at keeping us hydrated AND entertained. There's something going on every night of the week downtown! Stop by Parallel 45 Brewing to see their newest brews on tap and grab food from their growing food pod of food trucks. Trivia is every Tuesday, so mark your calendars. Gilgamesh Brewing: The River offers up a full menu so you can enjoy tasty pizza and burgers paired with their delicious, award-winning beers. If you have not been to one of their weekend patio concerts, go! BREW Coffee and Tap House has about any beverage your heart desires, (and now bar seating), and a full event list that includes activities like Magician Mondays, Open-Mic Nights, Live Music and more! Arena Sports Bar and Grill, known for their hot wings challenge and drink specials, is a wonderful place for a casual night out. They have lottery machines, pool tables and Wednesday night trivia each week. They are a popular spot to watch the game at, and always host a great Super Bowl Party. The Golden Hop Saloon is the newest restaurant/bar in town, and they have been busy! For an extra fun time, stop by on Thursday for their weekly karaoke, or on the weekend to participate in their brunch bingo. If you are more into wine, then we have just the thing- Valkyrie Wine Tavern and Bottle Shop! They offer a wide selection of wines to choose from and getting to hear about what is special and unique about each wine from Savannah is a real treat, plus who doesn't love to be gifted a perfect bottle of wine?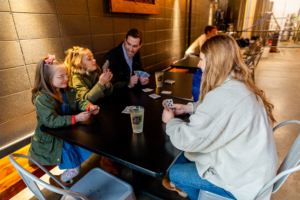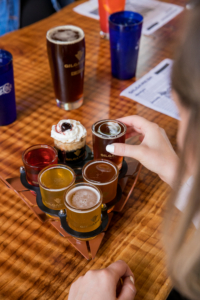 Foodies Welcome! 
Now that you have shopped, savored, and sipped some of the best of Independence, it is time to snack. There are some tasty restaurants in Independence that make some of THE best food in Polk County, (and we are not even exaggerating). Enjoy lunch or dinner at Territory. Choose between outside, on the covered/heated patio with romantic lighting and views of the Willamette River, or inside, cozied up by the fire. Either space is sure to serve up perfect date night vibes, especially when paired with their dinner specials, Territory Sprouts, and heavenly oversized skillet cookie with ice cream! Another downtown favorite is The Pink House Cafe, stop by here to enjoy some delicious home cooked breakfast, lunch or dinner in a charming REAL Victorian home built in the late 1800's. The family-owned café is always switching up their menus and offering specials. A few miles away, you will find San Antonio's Mexican Restaurant, this spot serves up amazing authentic Mexican classics with top notch customer service. Their tasty margaritas, family-friendly vibe and beautiful, bright interior makes them a popular lunch and dinner spot. 
 
Now the big question. Where to Love Local first? 
Stay tuned for more stories featuring a Date Night in Indy, the best sweets in town, and the coziest places to find coffee in our city. To subscribe to the City of Independence newsletter, visit: https://www.ci.independence.or.us/mayor/webform/subscribe-email-newsletter