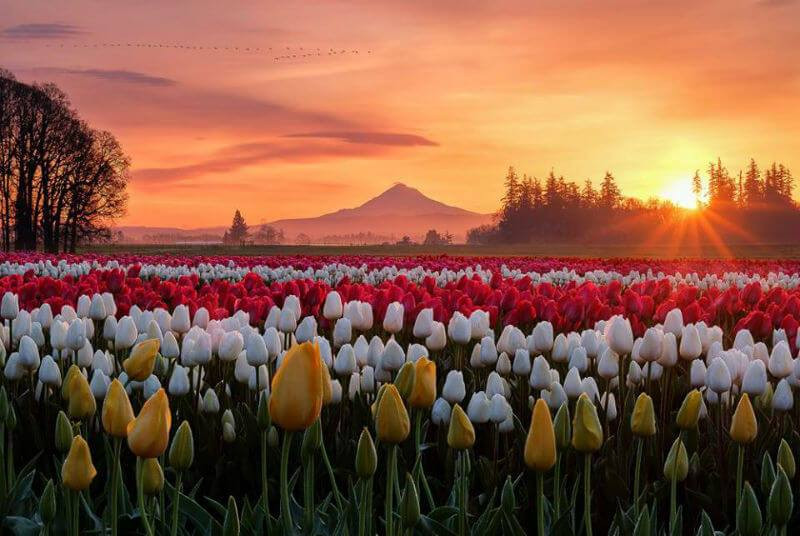 The Woodburn Tulip Festival is a classic Willamette Valley experience, with color that brings on smiles, and endless photo opportunities!
Wildflower season in Oregon is nothing less of spectacular. For us, an Oregon winter feels like a new coloring book, beautiful spaces engulfed by gray. Then the warmer breezes of spring blow the book open, and spot by spot, color appears, and the book fills in with new vibrancy. With so many places to choose from, let us at The Independence help narrow your choices down, from full-day expeditions to easy local jaunts.
Note: Wildflower season begins in March, but different elevations bloom at different times, extending all the way through August. So check the website of the particular location you're planning to visit ahead of time. Or check Oregon Wildflowers for the latest updates.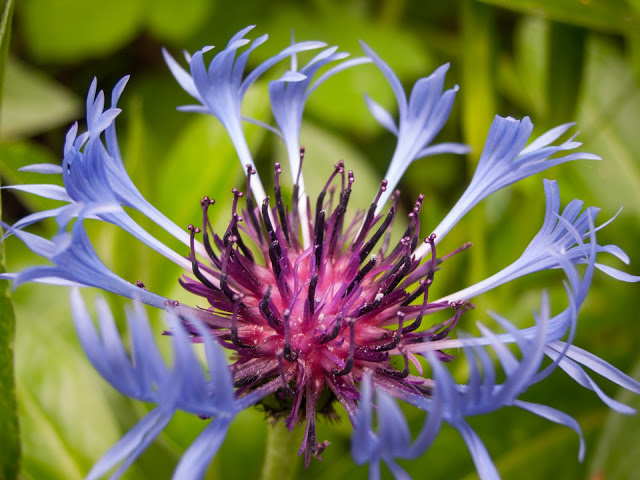 Mountain Cornflower at Minto Brown Island Park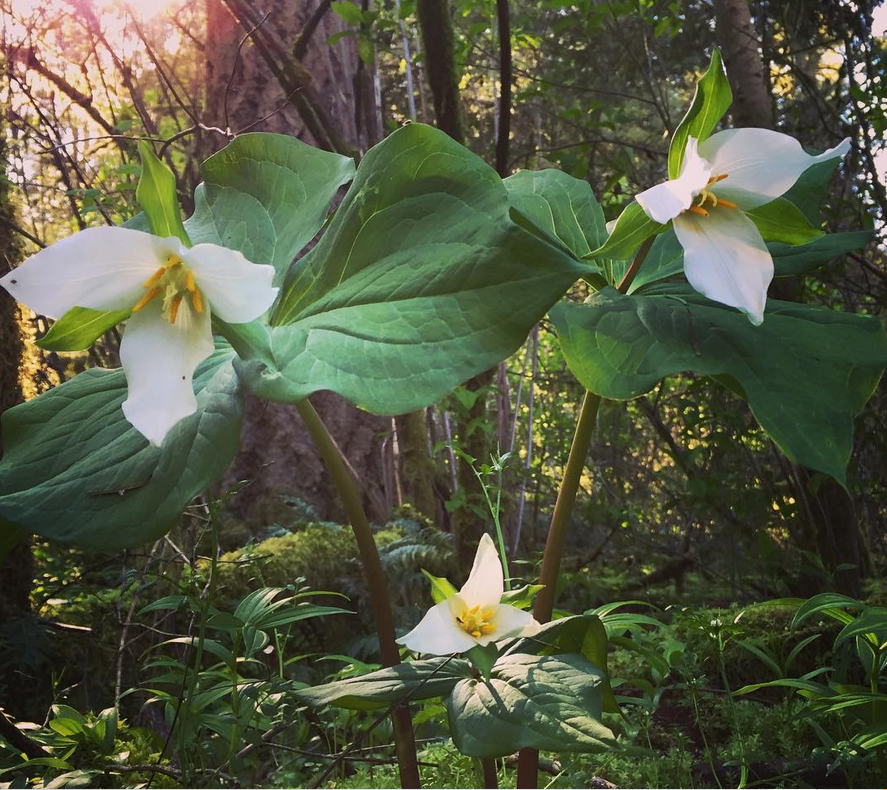 Trillium at Joryville Park
For the most local options, Minto-Brown Island Park is a 7.3-mile loop that includes lake views, is accessible to all skill levels, and is a no-hassle choice for local wildflower spotting. But if that sounds like a lot, the smaller bridge and orchard loop is another choice loved by wildflower watchers. Dogs are welcome here as long as they are kept on-leash. Basket Slough National Wildlife Refuge is another local option, and great for spotting more endangered species, such as the Willamette Daisy, Kincaid's Lupine, Nelson's Checkermallow, and Golden Paintbrush. Added bonus: you can spot Fender's Blue Butterfly (once thought to be extinct). This species is rare due to its dependence on Savanna Oaks, which have thankfully found a safe home in Basket Slough.
Looking for more? Joryville Park and Rhododendron Hillside Loop are all also close to the hotel and make for great hiking trails with wildflowers viewing.
Mary's Peak is a top Wildflower hike in Oregon and is just 45 minutes from the hotel.  Marys Peak Botanical Special Interest Area has multiple hiking trails to choose from, all of which are accessible from the day-use area. Home to the glacier lily, fairy slipper, baby blue eyes, and our personal springtime favorite, the pacific dogwood, Mary's Peak also offers sweeping views of the Valley. Perfect for a 1/2 day away from the hotel, breathtaking views, photo opportunities, and wildflowers to discover.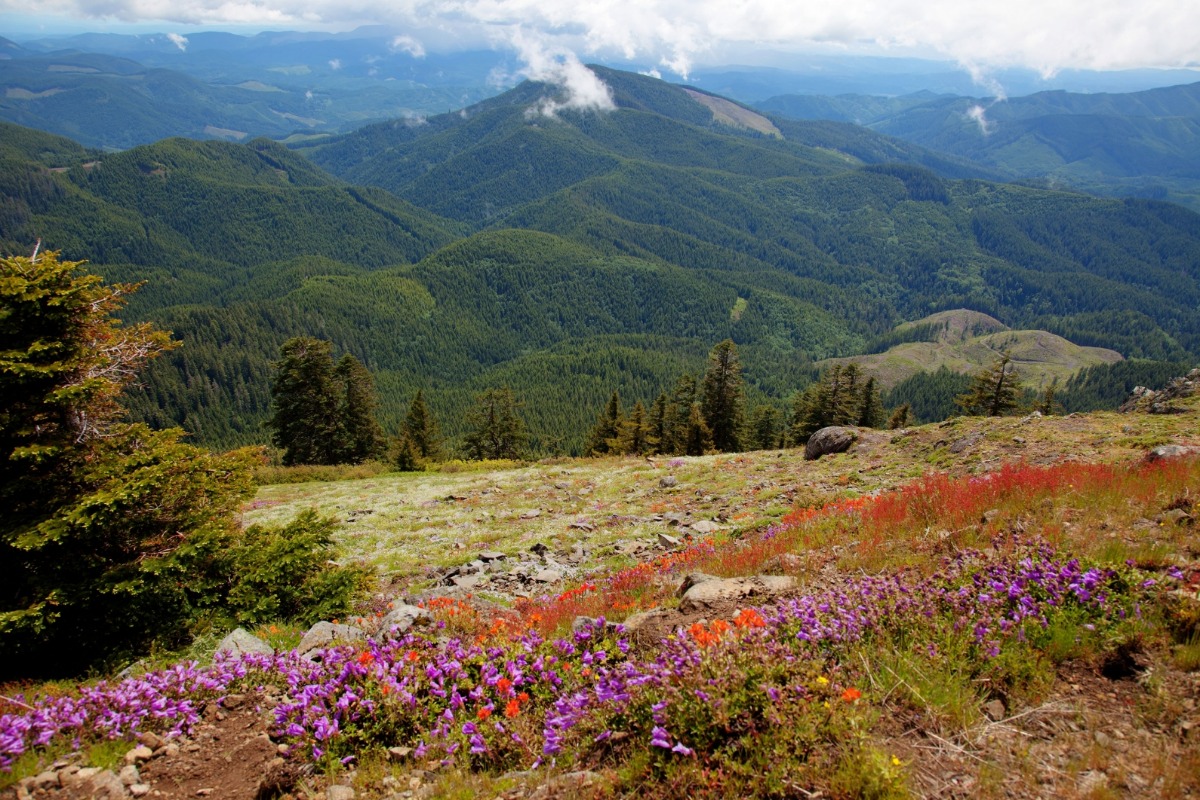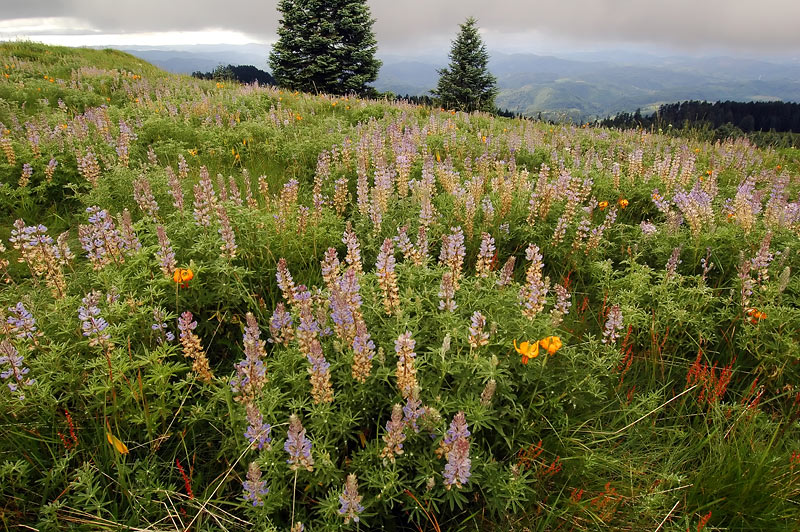 Views from the Mary's Peak trail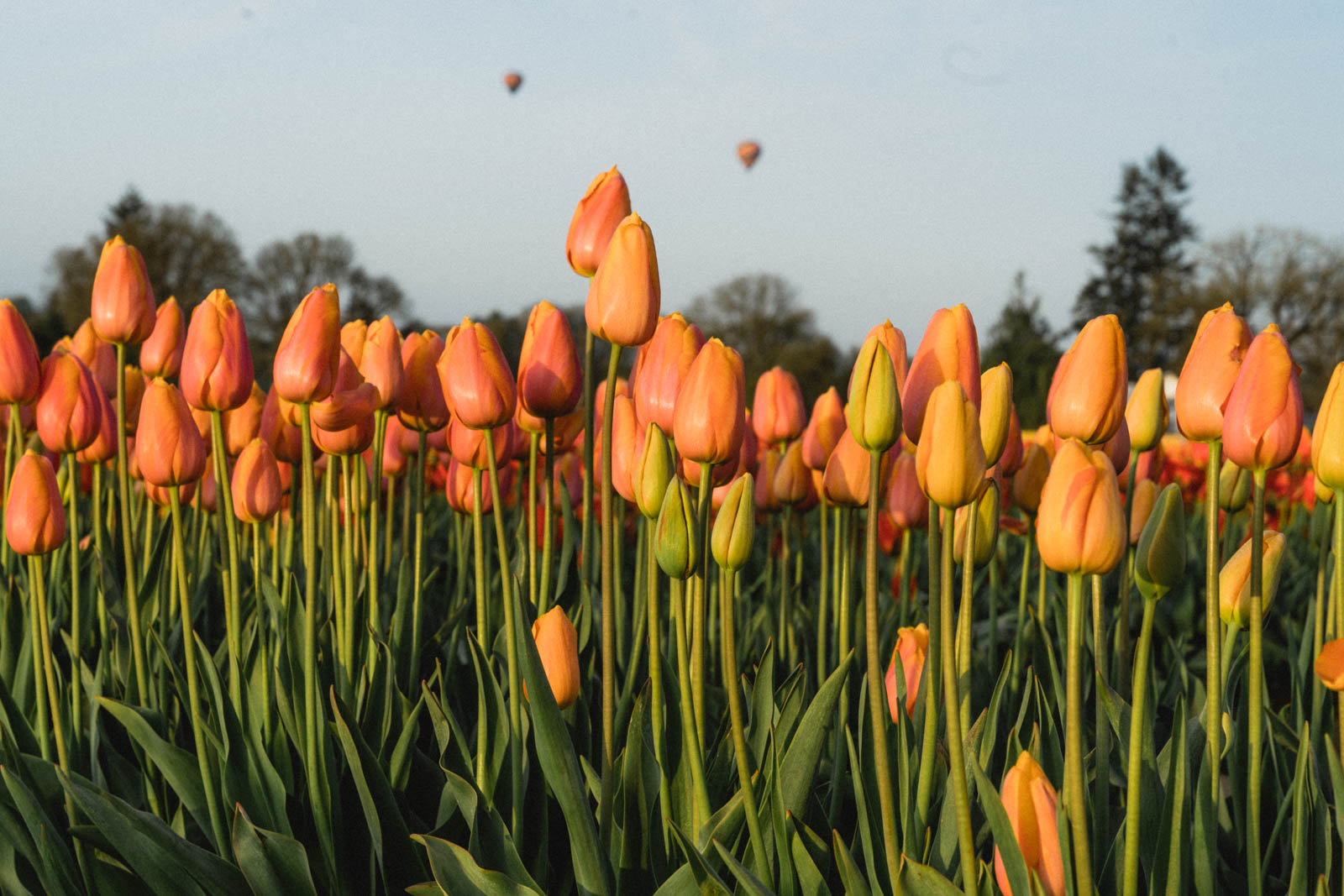 Tulips in dozens of colors and varieties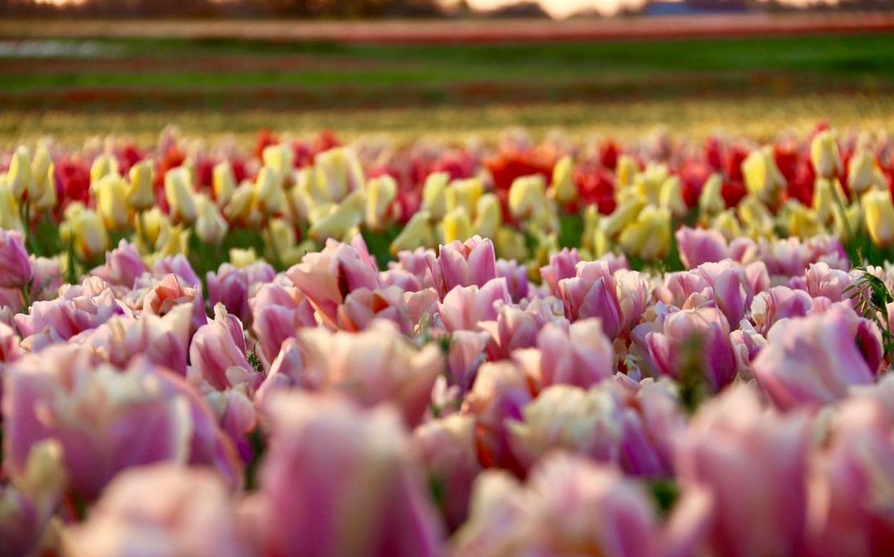 A dazzling technicolor experience
Your next option isn't technically for wildflowers, but it still can't be missed. The Woodburn Wooden Shoe Tulip Festival extends from late March to early May. Hundreds of rows of bright color extend as far as the eye can see. Easy walking trails lead the way to the fields while tractor-pulled rides are also available. And if you're feeling up for an adventure, their hot air balloon can lift you up to scope out the majestic fields from a height. You can check out the guide on their website for updates on when the blooms will reach their peak, but tickets are only available online, so make sure to purchase ahead of time.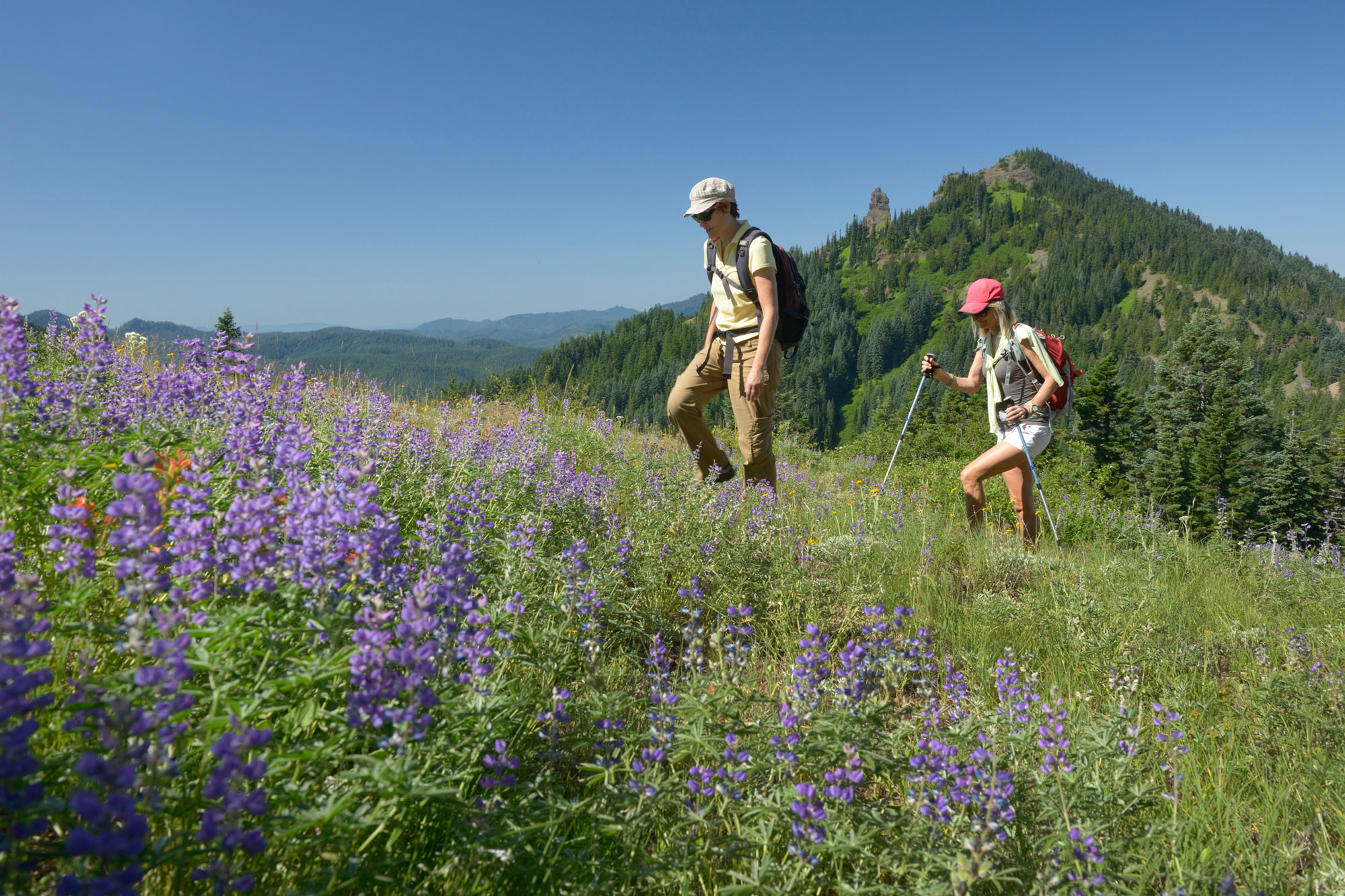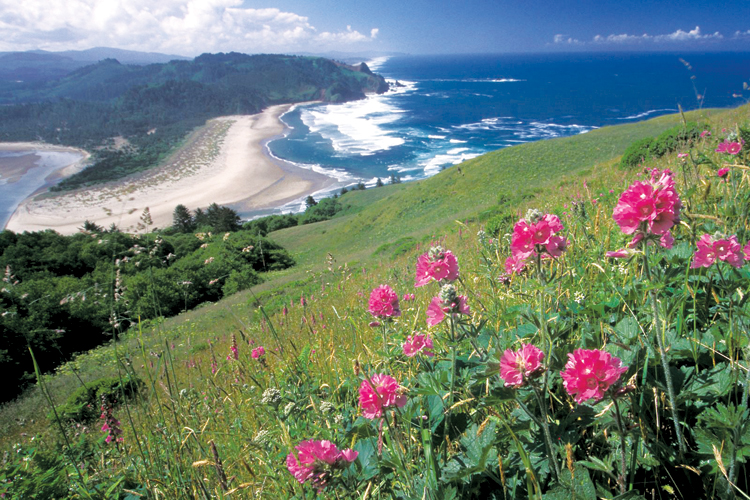 About an hour from The Independence, you'll find Iron Mountain Trail. This trail serves up a challenge with a steady climb, but if you're feeling up for the challenge, the wildflowers here peak around June. Some areas remain closed until May, but others are accessible year round if you want to spot the bravest of the flowers, determined to appear before the others. Dogs are welcome here, but must be kept on-leash.
Also about an hour from the hotel, check out: 1) Cascade Head Trail (a little less crowded), 2) William L. Finley National Wildlife Refuge (where guided tours are available), 3) West Eugene Wetlands (the website calls it a "wildflower dominated habitat"). And if you're here in May, check out Eugene's Annual Wildflower and Music Festival, generally in mid-May.
No matter what you pick or what you're feeling, you can't go wrong when it comes to the Wildflowers of the PNW. So grab your picnic basket, a bottle of wine, and start exploring! Learn more about Wildflower viewing in Oregon, and check out this Oregon Wildflower Community Site for recent reports and info.
Wildflowers to Look for in the Willamette Valley